Winkelshoek Cellar near Piketberg in the Swartland is one of those intricately wrought family businesses that took many challenging decades to build and speaks to the tenacity and innovation of overlapping generations that challenge each other to take bold leaps of faith and create opportunities from thin air. We recently caught up with brothers Hendrik and Philip Hanekom to find out what the latest generation is up to on Schenkfontein and how they are repositioning the brand to take it into the future.
Standing upon the shoulders of giants
Brothers Hendrik Hanekom, the Schenkfontein Cellar winemaker, and Philip Hanekom, the marketing and sales whiz kid, are the latest batch of Hanekoms to take the reins of a portion of the Winkelshoek dynasty. According to Philip, the fact that the family went into winemaking at all in the early 90s was partially his fault.
"Schenkfontein was born out of the old Winkelshoek family farm, of which wine farming was only a small aspect. Our father Hennie was in charge of the wine side of things," explains Philip. "Technically you might say I was the cause of the whole breakaway. When I was born, there were five grandsons in total and my father decided that the farm was going to be too small for that many heirs. So, in 1992 he broke away, and at that time the thing he knew best was winemaking, so he ran with that."
Winkelshoek is known for its delicious dessert wines, which their grandfather made using his well-guarded 'soetwyn' recipe. However, the new generations have made it their mission to take the brand beyond that. "My father and my grandfather made sweet wines," says Philip. "The communion wine served at the local church now has probably been lying in the casks for 15 years. That used to be our strongest suit. Initially, when my dad set out to do his own thing, he didn't rock the boat too heavily – building a cellar was an expensive business, so he started out by producing distilling wines for KWV."
Boldly going where no Hanekom had gone before
"I don't even think my dad ever dreamed of certifying a wine or building a tasting room," says Hendrik, who took over as winemaker in 2012. "My role used to be that of viticulturist back when we employed another winemaker. He ended up leaving us in the lurch over December one year, which is the worst possible time imaginable, just before harvest! That's when my dad said, Hendrik, you need to take over in the cellar and I was unceremoniously chucked into the deep end."
Once he had gotten the hang of things, Hendrik decided to boldly go where no Schenkfontein Hanekom had gone before and pushed to certify their wines.
"In 2014, I decided that we had the potential to get certified. All the vines that we'd planted were certified and so I set out to make a Shiraz. That's where it started. That year we took a bronze medal at the Young Wine Show for the 60 000L Shiraz we had made. It was completely unexpected. This is when I realised that with a little extra effort, we'd be able to make our mark."
Philip was also instrumental in the certification process and put his skills as a marketer to good use to spearhead the drive to put their winery on the map as a serious contender when it comes to quality wines.
"I finished my studies in 2012 and started working for the family business in 2013. I have shuffled around in the company quite a bit because remember, it's not just wine. When I eventually made my way to the bottling plant, which is where I wanted to be, I decided to take a chance. My dad never certified because it's a lot of paperwork and he never had the manpower to do it. I pushed my brother to certify because it would add value to our brand."
"While I was busy taking chances, I decided to enter our wine in a competition. Not a major world-renowned competition mind you, but I ended up pushing 14 entries. With this particular competition, they taste over the weekend and then on a Monday you get your results. It turned out we had gotten 9 gold from the 14 I had entered, and just like that, we had our first stickers! Then in 2017, I entered our new wines for the Michelangelo Awards, and boom, we won gold for our 2015 Winkelshoek Cape Vintage. We won a medal! I love entering my brother's wines and have it win because it's such a huge motivation for him to do even better and achieve even more."
Taking Schenkfontein into the future
Hennie, Hendrik and Philip's dad, used to buy in trimmed-off berries to make his initial distillation wine, but today Schenkfontein has 23 hectares of vineyards to call its own, and Hendrik also goes beyond their own borders to source grapes from further afield.
"Harvest time at our cellars is huge. We handle very large volumes of grapes, around 2500t wine grapes, and around 3000t distilling wine grapes," explains Hendrik. "This year was an exceptionally great year. We got some grapes from the Vredendal-Lutzville area because we knew the yield was going to be smaller in the Swartland due to the drought. We would however ideally like to get to a point where 60% of what we take in comes from our own vineyards."
"We're currently focused on our Schenkfontein range which is our elite wine. We are going to collaborate with the Swartland Independent Producers next year to challenge ourselves to take our winemaking to the next level. We're going to start small, with about five casks."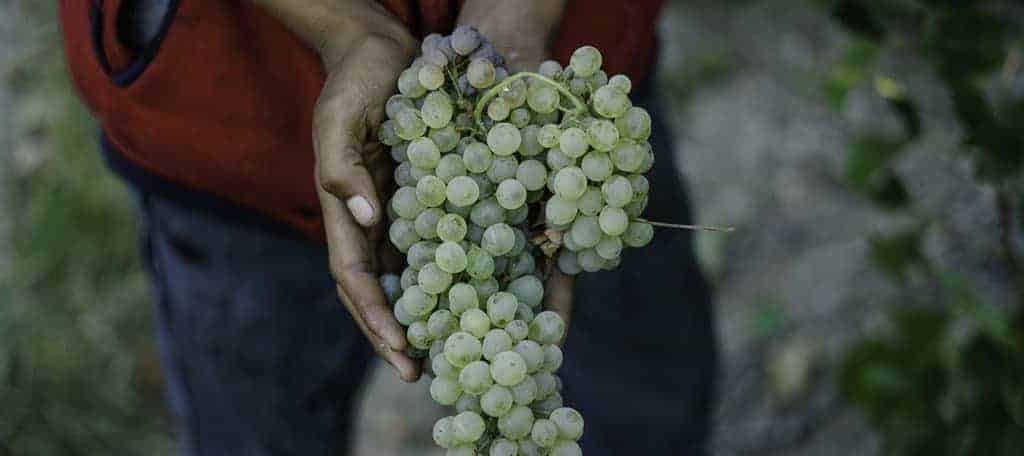 A touch of whimsy and a lot of pride
Although the Hanekom brothers are strong, rugged Swartland men through and through, they do have a whimsical streak that comes through on the labels of their wines especially.
"The tree on the label of the certified Schenkfontein wines is a version of the pomegranate tree that grows here on the farm," says Philip. "There is a lot of symbolism in there. The guy teaching the kids under the tree there, that is old Leermeester Schenk, a sojourner that used to live on the farm and taught the people in the vicinity out in the open. The day my father first saw this farm, the only water here was a little stream running from the mountain, and so he decided to name it Schenkfontein in honour of the tenacity of both the schoolteacher and the little fountain that somehow found its way here."
"There is also a little rabbit sitting next to the horse-drawn carriage on the label. When our father was in the army, he arrived at basic training with an F-grade ability to speak English, so when they asked for his initials he didn't have a clue what they were talking about. He asked the guy next to him what initials were, and he said, 'dis jou voorletters'. My dad's initials are HAC, the same as Hendrik's. When he got to the front of the line he proudly pronounced his in initials to be HAS (whoops!) in Afrikaans, and from then on out he was 'Has' ('rabbit' in Afrikaans). All his army friends still call him 'Has', so the little rabbit is a nod to that."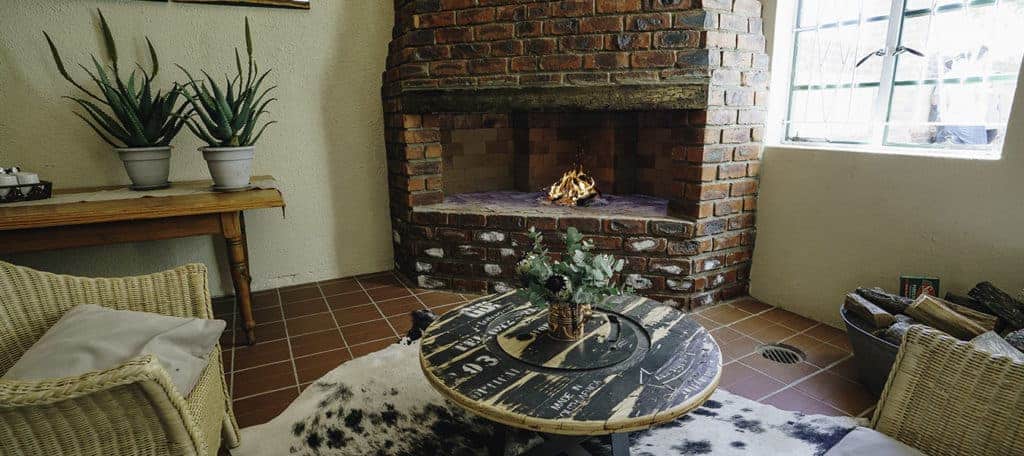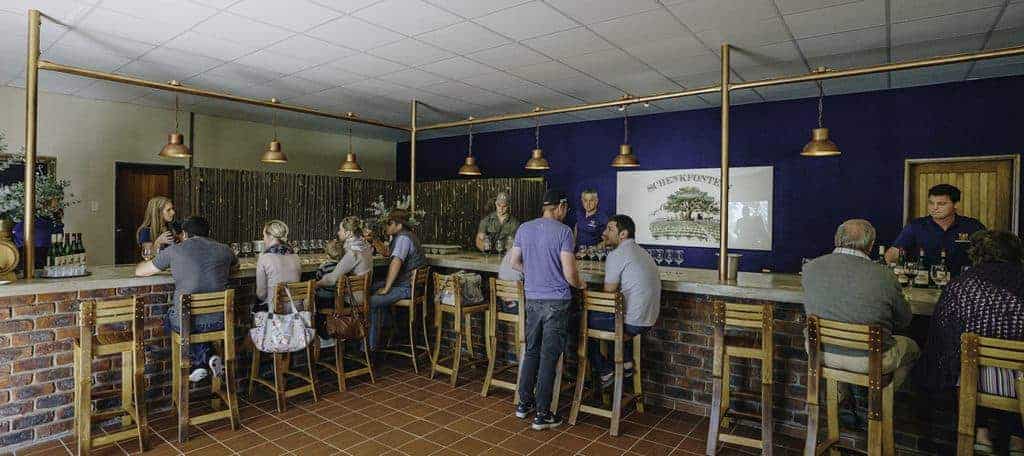 How to buy Winkelshoek wines (and meet the brothers in person!)
Winkelshoek wines can be purchased from the very user-friendly website, or picked up in person from the Winkelshoek Thatched Roof Complex alongside the N7 on the way to Piketberg. Hendrik and Philip also recently opened a tasting room on Schenkfontein farm where visitors can enjoy tastings by appointment, or sit down to a convivial evening of pizza and wine at a pop-up pizza kitchen once a month – keep an eye on their Facebook page and the Swartland Wine- & Olive Route platform for info on when the next shindig will be!
QUICK LINKS >> Website: www.winkelshoek.co.za | Email: kliprivier@winkelshoek.co.za or sf@winkelshoek.co.za| Telephone Number: (022) 942 1985 / (022) 913 8010