Written by Clifford Roberts
A defining characteristic of the South African wine industry is the family. There are many examples of farms with ancestry going back centuries. This is also true of the Swartland, some prominent examples of which are highlighted here.
How does this influence the experience of visitors? What does this mean for the quality of wine? These questions are answered by the protagonists of the Swartland story themselves.
The Allesverloren Farm began its association with the Malan Family over 140 years ago.
Today's custodians, Danie and Juanita Malan, are well-known – even legendary. These days, son Fanie is also involved and manages the farm. He is also involved in running the business while daughter Danielle heads up marketing and works in the trade for the brand.
The children are the 6th generation at the farm while Danie is the 5th generation to own the land.
On such a long road for the family, there have undoubtedly been crossroads that threatened to separate them from the farm. Danielle says the reason it probably never happened was that it has never been just about profit. "All the opportunities over generations have been seen from the perspective of building for the generations to come.
"I think what we share with previous generations of Malans is that we all have a great love for the farm and therefore its wines. That's why the idea is not only to grow Allesverloren, but also our history."
Kloovenburg is another of the region's iconic properties, partly because of the involvement of the family. Patriarch Pieter du Toit says it's important to them that customers know they're doing business with an established enterprise with a long tradition.
"There are family values, which is important," he says. He adds that further advantages of being a family business are that customers know it's generally easier to communicate with, "And, people can put a face to the wine," he says.
The message of family is intentionally worked into the brand. In recent months, Kloovenburg began featuring more of the family stories on its labels. "There are stories about the children, like the Chardonnay. There was a boulder in the vineyard that the bulldozer couldn't remove. Two of my sons decided they'd do it with ropes, and they did!"
There's a bottom line about business though that Pieter finds undeniable. "It's just plain lekker to have a family business!"
Het Vlock Casteel/ Môrester
Ansie Vlok Jr, co-owner of Het Vlock Casteel & Môrester Farm, believes the Swartland family traditions probably happened because of a simple need to survive. "A family offers trust; people know each other's strong and weak points.
"Visitors pick up on that family feeling and love it. In the Swartland, visitors come into direct contact with the owners and get to know both them and the Swartland environment."
There are many relatives behind the business that's most well-known for its shop and the large selection of olives it sells.
Johan Vlok Sr is the owner who was raised on Remhoogte – a Vlok family farm. He's been at Môrester since 1983. He heads up production preparation.
Ansie Sr has been at Môrester since the same year. She is involved with the pack store, office and social development of workers. She's been owner of Het Vlock Casteel since 2000 and is the production manager.
Son Johan is the third generation and co-owner of Môrester and is the financial manager while daughter-in-law Lila heads up administration; and, looks after the audits and finances of Môrester Farm.
Johan Sr's sister, Hannerie van Heerden, is involved as manager on the farm and also bakes for the Het Vlock Casteel shop while his brother, Dries, is also a Môrester manager.
In addition to being co-owner, Johan and Ansie's daughter, Ansie Jr, also heads up the weddings division and is a financial manager and has been involved since 2012.
Ansie Jr's cousin, Jolise Jacobs, is the manager and admin chief of the Het Vlock Casteel shop and in charge of social media. She also shares duties in wedding function co-ordination.
Then, there's daughter Anne-Mart, who supplies homemade sweets to the Het Vlock Casteel shop.
Schenkfontein/ Winkelshoek
Schenkfontein's website is awash with black and white photographs that tell the story of its people and past. Alongside, it tells how the history of Farm Winkelshoek started a century ago. A small winery was set up in 1918; and, sometime later, Hennie Hanekom – the family's first winemaker – was born. Schenkfontein originated in the early 1990s, when a portion of Winkelshoek was sold off to Hennie Hanekom who set out on his own venture.
Today, the wine business also involves his sons – third generation brothers Hendrik as winemaker, and Philip, as marketer.
For them, success would not have been possible had it not been a family business. "We put about three times the fruit through that the winery than it was designed for. There's little space for anything else and no time either," says Philip.
"I don't think just any winemaker would want to work in those conditions! It's passion, a drive to make it work and work satisfaction that works for us as a family."
"A family business with a long history is a sign of continuity and sustainability," says Stephan Basson, Babylon's Peak's fourth-generation proprietor and winemaker. "The value of the experience accumulated over generations is more valuable than money can buy. By making mistakes and learning from them, the correct knowledge is acquired and in farming, this takes time because over the period of a year you can plant or harvest only once.
By dealing with a family business, a wine buyer knows that they're investing in a sustainable enterprise that delivers a consistent product of very high quality built over many multiple decades to get to the right recipe and practices.
In a vineyard and wine environment that is dependent on microclimates for quality, it's especially important to have this experience on your own farm throughout generations because farms differ drastically from each other, even as neighbours.
This experience reflects in the wine. "Our wine shows the work of generations on the same land and in the same vineyards. The choices we make as a family or generation, about varieties or slopes, as well as the age of these vineyards, some of which were planted by my grandfather, make us unique and different. In many respects, we've already optimised our terroir and cultivar choices because of the knowledge that has driven these decisions. This experience and knowledge that we've accumulated over many years allow us to produce typical, vineyard-specific wines, making us different from the rest.
In terms of the biggest lesson he's learnt about the concept of family, Stephan says the answer lies with one's name. "Your name doesn't only say who you are as a person but reveals more about your family. My grandfather always said: "Remember, you're a Basson!
"With that, comes humility. My great grandparents weren't the strongest financial people, but they were rich inside because of humility. Blood is thicker than water – a family always stands together."
Leeuwenkuil Family Vineyards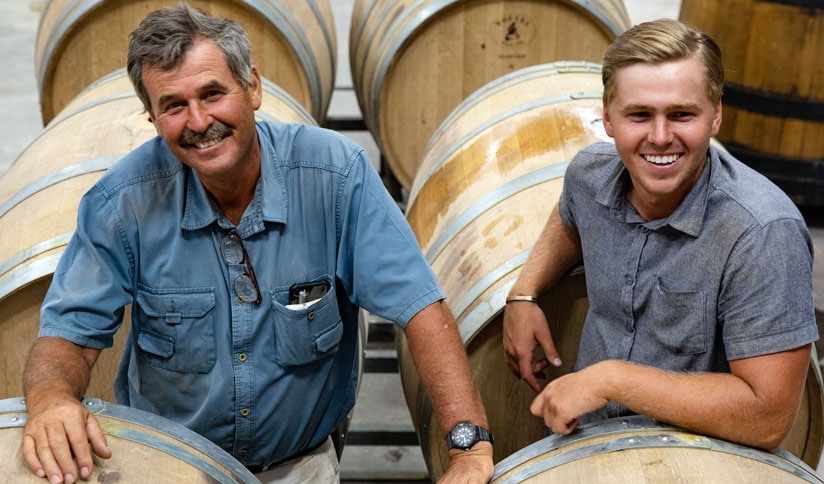 It was owners Willie and Emma Dreyer's dream to not merely rise to prominence as wine farmers, but rather to establish a value-added wine enterprise for their descendants.
There was no large inheritance to help them. Rather, it took plenty of elbow grease, long hours and even making boerewors, to make the business work!
Willie Jr is currently studying at Elsenburg and should be joining the business in two years. One of our daughters, Helanzi, is involved with the digital marketing.
According to Emma, there's an authenticity to a family business that reflects the story of that family.
Today, the Dreyer Family is the largest farmer of wine grapes in the coastal region.
"The same grapes are handled by winemakers with experience of the vineyard and environment, providing continuity and consistency for wine-lovers," recons Pieter Carstens, Production Manager of Leeuwenkuil.
Willie Dreyer says that "while there's nothing that makes a farmer so productive as wet soil and a debt with the bank, the great challenge for family businesses is that lure of outside investors. Additional cash flow comes with the risk of diluting the essence of family in pursuit of dreams and plans."
Restricted cashflow however encourages creativity and brings everyone together, he says. The result is that nothing is wasted – neither time or substance, and strategies and processes are continuously re-evaluated.
"You should always surround yourself with successful people. Family businesses are just as good as the people who do the work and who drive the enterprise. These people play a major role in amongst others, minimising disruption as the business passes from generation to generation."