As winter slowly starts to pack her bags to go on annual leave to the north, the Southern hemisphere welcomes the infinite new possibilities of spring. Springtime is a beautiful time in the Swartland – the perfect time to fall in love and promise eternal betrothal to a life partner.
When looking for the ultimate wedding destination or venue in and around Cape Town, there are a wealth of factors that need consideration. We've collated a summary of the very best wedding destinations and venues our region has to offer.
Why not come and visit the Swartland this weekend and get to know our region? Chances are you'll fall in love with more than just your partner …
HET VLOCK CASTEEL
"Imagine a castle surrounded by vineyards. Think stone walls, lots of wood, wrought iron chandeliers – fit for your fairy tale wedding."

Ansie Vlock
The Riebeek Valley is renowned as an exceptional wedding destination. The small town of Riebeek Kasteel is home to quaint streets and perfect photo opportunities around every corner. Het Vlock Casteel is one of the most acclaimed wedding venues in the Western Cape, comfortably accommodating 200 guests and a dance floor. A fixed price list can be requested directly from the provider and includes the venue, cost per person and all catering. Please note that no external caterers are allowed.
The venue does not offer any accommodation on the farm itself, but the following guesthouses – all listed on ROOMS IN RIEBEEK – are their preferred providers: Della Vigna Cottage, Katarinas and Beaumont Country.
FYNBOS ESTATE
"We love hosting weddings and never do too many so that the event is always special and personally shaped by the couple. Our wedding spaces are exquisite and the farm lies in the Joubertskloof valley where we have vineyards and olive groves, make natural wine and have a mountain nature reserve. The weddings we offer are relaxed but everything is of high quality and we pay particular attention to detail."

Diana Simons
There are certain places in this world that hum with happy, healing energy – places where the frantic rat race of the world abates to allow space for joy to flood back in. Situated in a verdant and well-tended fold along one of the ridges of the Paardeberg in the Swartland, Fynbos Estate is such a place. This quaint venue can accommodate 80 to 120 people and a fixed price list can be found on their website.
The venue offers accommodation for 45 people sharing. Catering can be provided on-site. Fynbos offers full packages, including food, service, drinks for ceremony and reception. Their favourite restaurants in Malmesbury and Riebeek Kasteel include the Royal Hotel and Cherry Lane Bistro and Gift Shop.
KALMOESFONTEIN FARM
"This is a working wine farm. Plaaslewe goes on around you. Animals get fed, wine gets pumped over, gardens and vineyards get worked in and events might be in set-up or clean up phase. There are also chickens. Lots of chickens and very much free range. Between them and the ever-growing flock of peacocks and wild guinea fowl, you are guaranteed a natural wake up call. The stove is gas, the firewood is cabernet, the wine glasses are proper and the rusks and bread were baked right here. That is just how we roll."

Semma Badenhorst
This beautiful wine farm and wedding venue is everything that someone who loves quintessential Swartland would want for their big day. The venue can comfortably accommodate up to 150 people and catering could either be outsourced or provided. There is no fixed price per person, but a full rental package can be provided upon request.
The farm itself can accommodate 10 adults (in two double room cottages and one double room silo). There is also space for 'glamping' from an external service provider (up to 35tents/ 70 guests)
The Kalmoesfontein team usually recommends additional guests to look for accommodation in the nearby town of Riebeek Kasteel – here ROOMS IN RIEBEEK is a great source to work from – and they organise shuttles to and from the farm. A list of recommendations around the farm in the Paardeberg itself can also be provided upon request.
As for those healthy appetites the morning after, Bill&Co Swartland Street Market in Malmesbury carries their stamp of approval for a hearty countryside breakfast and Mama Cucina or Alchemist in Riebeek Kasteel offer excellent lunch and/or dinner options for those opting to make a weekend of it all.
FRANKI'S VINEYARDS
"Franki's Guest Lodge is situated in the middle of a 700-hectare farm, in the heart of the Swartland, between the towns of Malmesbury and Darling. It has ample space for the more adventurous couple to exchange their vows with a dash of flair and extravagance."

Natasha du Toit
This boutique winery and guest lodge, also renowned for its contribution towards solar energy in South Africa, makes for the perfect destination for couples wanting a venue that is slightly off the beaten track. They can comfortably accommodate up to 100 guests and their guest house up to 20 overnight guests. Most functions are held outdoors but can be moved to the cellar on rainy days.
Quotations are subject to personalised interviews with couples and custom made to fit every individual's needs. A full list of external caterers can be provided. Please note that own caterers will only be allowed subject to pre-approval by the management of Franki's Guest Lodge.
ORG DE RAC WINE ESTATE
"The possibilities at this venue is endless. From Koi ponds to wheat field views. You can dream big."

Careli Smit
Majestically perched on one of the Swartland's most beautiful mountain slopes, this wine estate will leave your guest with views for days and some of the best organic wine this country has to offer. Org de Rac's venue can comfortably accommodate 100 people with a dance-floor and 120 people without. There is no fixed price list, but a full description of the wedding and function facilities or services can be found on their website.
Although the venue or farm itself offers no accommodation for guests, a preferred list of the providers in the surrounding area includes Nieuwedrift Farm Cottage, Dunn's Castle and De Berge Guest House. Preferred providers of restaurants and all activities the day after or before the wedding include Nieuwedrift Wine Estate and 22 Waterfalls. The venue does not offer catering – the caterer is entirely the choice of the bridal party.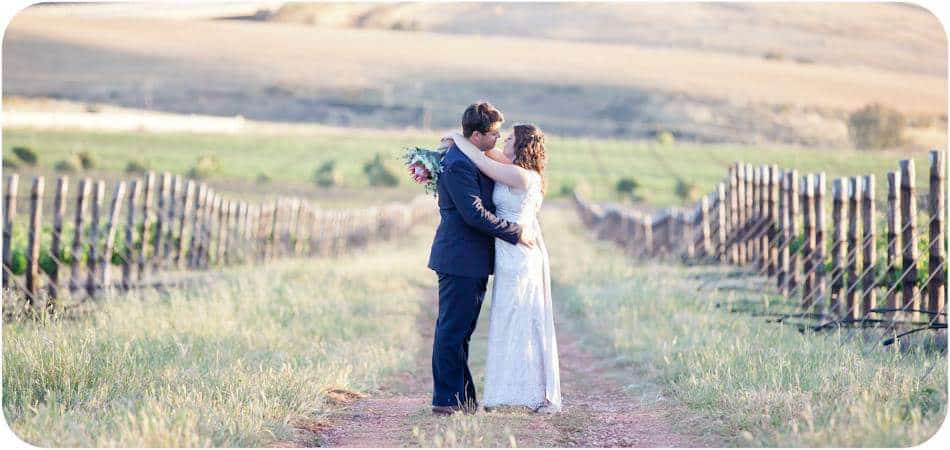 ALLESVERLOREN
"Oak trees, our forest chapel, vineyards, excellent cuisine and award-winning wines all add up to the perfect venue to have your wedding."

Bertus Bester
Situated on the historic farm Allesverloren in the small Swartland town of Riebeek West, the Allesverloren Wedding and Conference venue has built a formidable reputation over the last decade. The main venue hall (330 square meters) can accommodate 200 guests with a dance area or 250 guests without a dance area. They offer a personalised menu for every wedding – tailor-made to the individual budget and requirements of each couple.
Unfortunately, there are no accommodation facilities for guests but the preferred accommodation provider, Church Hills Boutique in Riebeek West, look forward to welcoming you and your wedding party. Be sure to visit Pleasant Pheasant Restaurant, a well-known countryside restaurant – much loved by the local community and travelers – during your stay.
RENOSTERBOS/ HOFSTRAAT KELDER
"We offer a personal and intimate venue, ideal for small parties and weddings. My husband's Hofstraat Kelder garagist winery is on-site, with award-winning wines to your disposal at cellar door prices."

Karin Smit
Renosterbos restaurant and function venue are situated just outside Malmesbury in the quaint urban-agricultural outskirts of Myrtledene. The venue can comfortably accommodate up to 60 guests and menus are quoted on to fit the budget and requirement of each couple. Outside caterers are also welcome.
Be sure to also pull in for breakfast at Cherry Lane Bistro and Gift Shop the next morning as Karin's team makes more than just a famous Eggs Benedict.
So there you have it! Spring is nearly here. It is time to fall in love. Where better than to elope in the beautiful Swartland?