Harvest 2021 has been above expectation for the new 'Riebeek Boutique Cellar'. With the longest harvest season to date and exciting new wine projects, it has been a marathon for the entire team. But we are all excited about this vintage and especially the new wine innovations. From vinifying 15 ha of newly certified Old Vine Project vineyards; to experimental new wild-fermented skin-contact wines; to the latest release of RAAR vintages – the 'Riebeek Boutique Cellar' has many surprises in store.
Established in 1941, Riebeek Valley Wine Co focusses exclusively on wines that are 100% wine of origin Swartland. 22 Families across the Riebeek Valley, including 3rd and 4th generation wine grape growers, ensure continuity of the finest quality W.O. Swartland wines.
To secure the heritage of our vineyards, we've been investing significantly into the vineyards and the winery to craft high-quality wines that showcase specific blocks and special vineyards that tell the story of the Swartland terroir.
As part of this investment, 2021 will see more than 15 ha of our newly certified vineyards form part of the Old Vine Project. Protecting the heritage we have in these gnarled old Swartland Chenin & Pinotage is invaluable in making terroir driven wines and furthers our mission as self-appointed Guardians of the Swartland.
Our limited release, Kasteelberg Chenin Blanc is Old-Vine-Project certified and made from a 39-year-old bush-vine vineyard. It demonstrates the depth and texture that these old vines bring to a wine. Watch this space for the latest Old-Vine-Project wines from the 2021 vintage.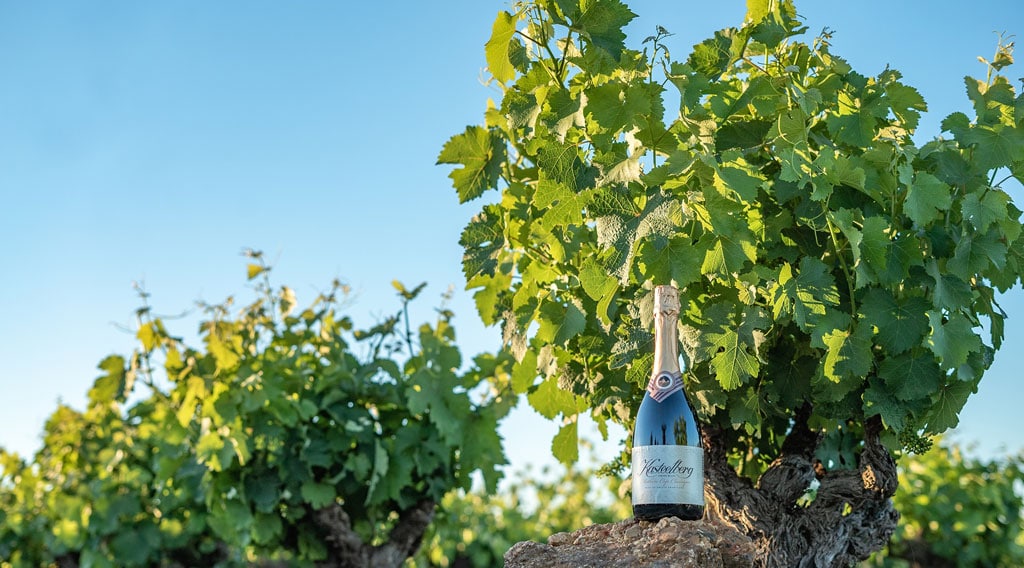 Continuously evolving and innovating, Riebeek Valley Wine Co has successfully transitioned to the modern wine company we are today. For us sustainability and partnership are an important part of our winery's evolution in order to keep adding value to our community, while protecting the heritage we have in our Swartland vineyards.
As part of this evolution, we invested significantly into the state-of-the-art 'Riebeek Boutique Cellar' . It allows us to vinify smaller parcels from unique vineyards to make smaller volumes of hand-crafted wines, while also collectively making the winery work harder to benefit the greater Swartland wine-making community.
2021 was our 3rd harvest in the new cellar and we are very excited about all the new wine projects by independent winemakers as well as individuals of our own Riebeek Valley Wine Co team.
For our wine team the 'Riebeek Boutique Cellar' has been the perfect platform for innovation and experimentation: from wild, whole bunch ferments; to extended skin-contact old-vine Chenin Blanc; to 100% carbonic macerated Shiraz. Watch this space for some exciting new releases by Riebeek Valley Wine Co!
We have so many hidden treasures in the Swartland and we are well-geared to showcase individual parcels from exceptional vineyards.
We have just released the new vintages of our RAAR range which features a 2019 Grenache Blanc, 2020 Cinsault and the 'National Young Wine Champion Red Blend' Shiraz / Mourvèdre 2019 in both a 750ml and 1.5liter magnum.
To experience these hand-crafted wines from the Riebeek Boutique Cellar, visit our new Tasting Emporium, in Short Street, Main Road, Riebeek Kasteel.
The Tasting Emporium offers visitors a curated selection of our hand-crafted wines from our core range and limited releases, small batch ranges; as well as local Riebeek Valley olive products, craft beer, craft gin and more.
As the perfect partner to a glass of wine, build your own cheese & olive platter with our selection of locally produced cheeses, olives and cured meats. Most importantly join us to a kick back and discover true Swartland hospitality in a stunning atmosphere.
Tasting Emporium Opening Hours: Tues – Thurs 09h00 – 17h00; Fri 10h00 – 18h00; Sat 10h00 – 16h00; Sun 10h00 – 15h00; (Mon closed)
Read more… Riebeek Valley Wine Company – A story of tenacity against the odds