Org de Rac Organic Wine Estate in the Swartland is pretty hard to miss. Situated on the slopes of the Piketberg hills on the N7, it perches proudly on the special soils and elevations that make its wines so remarkable. We recently caught up with cellar master Frank Meaker to discuss the winery's role as organic pioneer in the Swartland, and South Africa at large, and to learn more about the slow and steady way they do things at Org de Rac.
MEET THE MAKER: FRANK MEAKER
Frank Meaker is a legend in the local wine industry. Grandson of late Kanonkop owner Paul Sauer who left deep footsteps in the South African wine industry, Frank cut his teeth at Distillers Corporation and has since positioned himself as a trailblazing organic winemaker in the Swartland. The truly great thing about Frank, however, is that he didn't get into organic wine because it is fashionable.
As Emile Joubert noted so eloquently on his blog, The Wine Goggle, "As cellar master at Org de Rac in the Swartland, Frank has become a keen follower of organic agriculture. No gimmick or marketing hype. For him, organic is purely about farming as it had been done in them early days. Before a chemical that could blast hell out of the slightest sign of a critter or one pumping volumes of nitrogen into the soil could be ordered at the touch of a button."
GOOD TO KNOW! Org de Rac has its wines and farming practices certified by WIETA (Wine & Agricultural Ethical Trade Association), and Control Union, and also complies with the guidelines of the SANBI Biodiversity and Wine Initiative.
WHAT IS ORGANIC WINE?
But what exactly is organic wine? According to Frank, it all starts in the vineyard, and how the vines are treated. The aim is to farm with the natural resources you have, instead of adding and subtracting in a way that is detrimental to the environment. At a time when it has become commonplace to farm with pesticides, herbicides and fertilisers, this can be harder to achieve than it may seem.
"Farming organically means you're essentially returning to the way of working the land that was prevalent for hundreds of years before the Second World War," explains Frank. "Because you're working with what you have, and focusing on building the vine's natural immunity to prevent disease, it's quite labour intensive. You have to keep weeds and errant grasses at bay by hand, rotate crops, compost and sucker to manage your bunches in a way that doesn't overexpose it to the sun, but still allows for plenty of airflow. And that's just the start of it."
"Org de Rac is currently the only organic vineyard in the Swartland," says Frank. "There are a few others that are systematically moving in this direction, but currently we are the only one that initially started out as an organic venture. We opened our doors it was a pretty progressive move, because the return to organic farming had just really started out in South Africa; the trend was only just emerging. There were a lot of top university people involved in the setup of the farm, and we produced our first wine in 2005."
"Initially the market didn't except the wine in a big way, the novelty didn't really kick in. It was only later around 2010 when there were three organic guys on the market in South Africa that the movement started sinking in for the world at large. By 2012, we got our first break in the Swedish market and from there it gained momentum. They were the first guys to think organic in a big way; the popularity of our wines surpassed their wildest expectations on the Swedish market so it's grown exponentially."
THE LAND THAT SHAPES THE WINE
According to Frank, the location of the farm plays a big role in their ability to farm organically and craft the popular vintages that have placed them on the map.
"The way the farm is situated on the Piketberg Hills, we enjoy a very healthy climate – far healthier than what you find in Stellenbosch or Paarl. Our climate is also phenomenal; our average day temperature throughout the growing season is 24 degrees, meaning that it gets hot in the day to about 30+ degrees and it cools down at night to about 18 degrees. We're 50km from the sea and we get that real cold breeze from the Atlantic. That plays a huge role in the composition our grapes, the colour etc. We're also sitting on amazing soils, Malmesbury shale – it's deep, rich, and the water-retention is exceptional."
TIME TO SHINE! Celebrity chef Jan Hendrik van der Westhuizen chose Frank Meaker and Org de Rac to create two bespoke wines for his Michelin-starRestaurant JAN. The blends, that are now available in selected Woolworths wine shops and for purchase online or at Restaurant JAN in Nice, are currently making quite the splash on the French wine scene.
TASTY THINGS TO DO AT ORG DE RAC
The Org de Rac tasting room is open from 09:00 – 17:00 Monday to Friday, and 09:30 – 14:00 on Saturdays and public holidays. There are also cheese platter picnics available that may be ordered and paid for ahead of time, to be enjoyed on the lovely lawns or at picnic benches – the perfect option for a long, lingering lunch when you head this way for a visit.
While we highly recommend that you take the time to taste all of the Org de Rac wines when you visit the tasting room on the estate, we do have to say that the oyster and Cap Classique pairing is something truly special. Take a seat outside and drink in the sweeping views over the Swartland as you sip on a glass of Org de Rac Cuvée La Verne Method Cap Classique Blanc de Blanc Brut and indulge in a few cold-water Saldanha oysters. At R30 per glass and R12 per oyster, this is one affordable treat!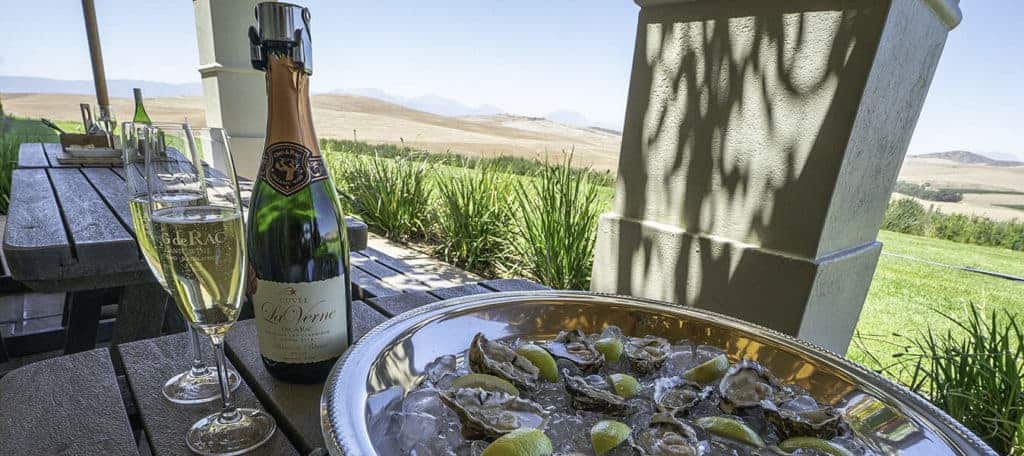 DID YOU KNOW? Many commercial South African wines contain traces of animal products like egg white, fish products and milk derivatives that are used to stabilise its composition. Org de Rac organic wines are naturally vegan-friendly because they use no animal derivatives in their preparation process.
QUICK LINKS >> Website: www.orgderac.co.za| Email: wine@orgderac.co.za | Telephone Number: (022) 125 0269