Wim Smit is not a winemaker. He's a guy that makes wine. Or, at least, that's what he says. We beg to differ. Once you've had a glass of Renosterbos Nebbiolo you won't have any lingering doubts about this professional builder's exceptional prowess around the barrel, no matter how low-key his operation may be.
We recently stopped over at Wim and Karin's pretty little cellar and venue in Myrtledene on the outskirts of Malmesbury to find out how he managed to create a wine that took the 2018 Michelangelo Garagiste Trophy when all he really wanted to do was take up a bit of a hobby to stay out of trouble.
The Y2K scare that spurred Wim & Karin to action
"I started making wine in 2000. Everyone always wants to make wine, and then they say, one day I will still make my wine. So in 2000, when Karin and I were ecstatic to learn that the Y2K debacle would not, in fact, be ending the world, we decided this would be the year we would do it. I knew that if I kept waiting for 'someday' another ten years would come and go before anything happened," explains Wim.
I gathered a bunch of friends, and we went to pick some grapes with I purchased from a farm just outside Malmesbury. On a Saturday morning, everyone tagged along – the kids, family, the whole lot. For many of them, it was the first time cutting grapes from a vine."
From there they took the grapes in crates to Wim's house in 'Hofstraat' in Malmesbury and destemmed every single bunch by hand. Karin, Wim's wife and the very talented owner of local eatery Cherry Lane, fed everyone breakfast and later on lunch. A fun day was enjoyed by all.
"The first wine we produced in my garage in Hofstraat was a Shiraz that we named Mikeljac (a combination of our kids' names), but when people started calling it the Michael Jackson wine we knew we had to change it up. At the same time, we decided to make it commercial, in the sense that it would be certified by SAWIS."
This is how it came to be that he happened to name his winery after the street in which they lived, sort of by accident…
How the name 'Hofstraat Cellar' came to be
The confusing thing about Hofstraat Cellar is that is not actually located on Hof Street in Malmesbury at all.
"When we decided to get certified, I went to SAWIS in Paarl to register the cellar. When I sat down, the first question they asked was 'what is the name of the cellar'? I hadn't realised that this would be the first question straight off the bat – I thought there would be a bunch of hoops to jump through first – so I just went with Hofstraat, because we lived on the corner of Hof and Rainier Street in Malmesbury at the time, so I jumbled together the name on the spot."
Learning by listening & the importance of experience
Today, Hofstraat is a notable garagiste winery, i.e. a winery that produces less than 9000L of wine per vintage. According to Wim, the reason he has managed to make such amazing wines, despite the fact that he has no formal training, has to do with his talent for listening and passion for wine.
"I always tell people: We make wine, but I am not a winemaker. We don't have any training in the craft. In my opinion, being a fully-fledge winemaker is a completely different thing to what we're doing – those guys learn a lot of technical things about the process and when things go wrong they have the know-how to fix it," he explains.
According to Wim, he sticks to red wine because white wine is a lot more finicky to make and he doesn't always have the time to keep a close eye on proceedings throughout the fermentation process.
"We make wine because we love it and we enjoy the whole social thing around it. At present, I don't feel the need to grow the business at all, in fact, I would actually like to scale it down somewhat. However, it's like when you have a passion for anything – I keep buying new toys to play within the cellar. So before you know it, instead of winnowing down, you're making more. I'm very curious about foreign cultivars like Barbera, Nebbiolo, Grenache Tinta Barocca … so it would be easy to persuade me to make another."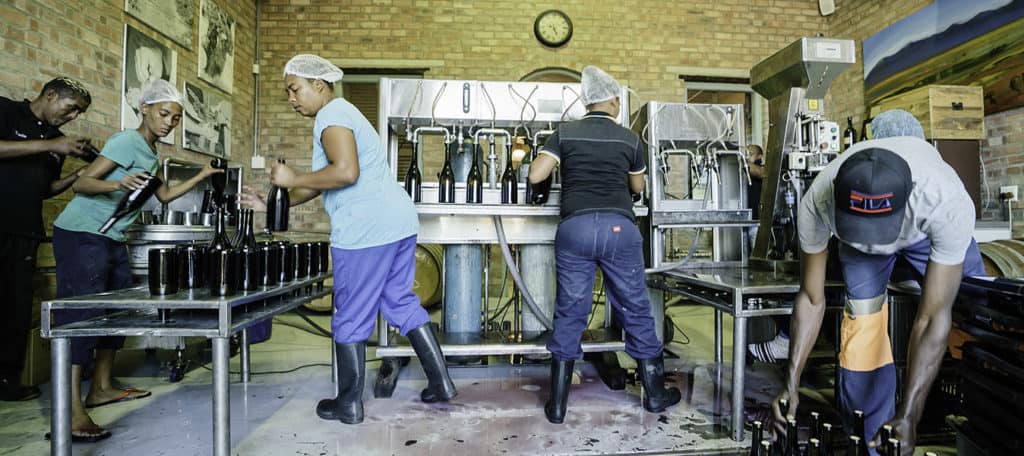 When & where to try and buy Hofstraat Cellar wines
Hofstraat Wines are currently available at The Wine Kollective, Druiwetros in Malmesbury, Bill & Co., Enjoy Liquors in Riebeek Kasteel, Giovanni's in Cape Town, at Mama Cucina on the wine list and Cherry Lane as well. Lots of family and friends buy Wim's wines by the caseload and it tends to sell a lot by word of mouth referrals and personal orders. When you host a function at their venue, the wine also forms part of the deal. Wim is quite keen on hosting tastings – you just need to let him know to be around ahead of time.
"Since it's my hobby, I actually love doing tastings. I've had two people pull in and after six hours they'd be having dinner with us."
QUICK LINKS >> Facebook: www.facebook.com/pg/Renosterbosrestaurant| Email: renosterbos@cornergate.com| Telephone Number: 083 270 2352