By Danie Malan
At Allesverloren we do everything for the love of wine. The work on a farm never ends, not even in times of a world-wide pandemic, at present we are preparing for the pruning season.
Our vineyards are ideally situated and the various micro-climates on the farm create the perfect conditions for producing big, robust red wines. Allesverloren is the oldest wine estate in the Swartland, owned and managed by the Malan family since 1872.
I am the 5th generation Malan on Allesverloren. Although the name Allesverloren translates to 'all is lost', I assure you our family has enjoyed many joyous moments and have been richly blessed over the years.
In 1939, my grandfather, also called Daniël Francois Malan, planted the first imported Portuguese grape varietals (Touriga Nacional, Tinta Barocca, Souzao and Tinta Franciska) in South Africa on the farm. Originally known for our Port-style wines we started to focus more on the production of red wines in 1962. At that stage wine lovers started favouring dry red wines. My Father, Fanie, knew instinctively that it was important to adapt to the changing market trends, and in order to keep the business moving forward, the focus was shifted to producing more red wines. This was a brilliant move and by doing this, my Father ensured that the legacy of Allesverloren is still alive today. Today approximately 80% of our production consists of red wine.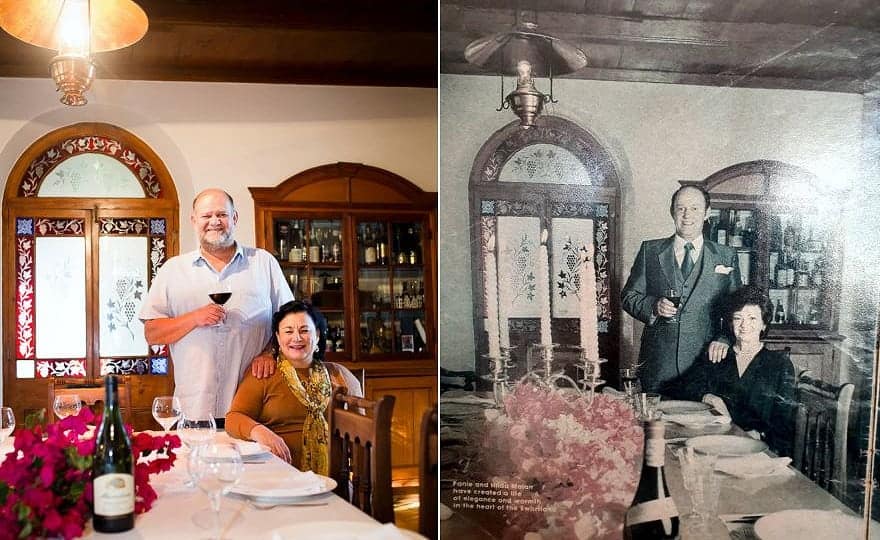 I will let you in on a little secret; I am currently working on a new wine that will be released soon. The Fanie Malan Reserve will be a port-style wine in honour of my Father, Fanie Malan. He was an icon in the South African wine industry and one of the founding members of the Swartland Wine Route (now called the Swartland Wine & Olive Route). I have been sampling some of the components that will make up this wine and I can honestly say that in my opinion it will be an exceptional wine, worthy of celebrating the extraordinary man who paved the way for Allesverloren's success. A wine worth waiting for; I can however guarantee that your patience will be richly rewarded.
My youngest daughter, Danielle, and my son, Fanie, joined our team recently. The new generation Malans on the farm have many plans up their sleeves. Soon we will be offering exclusive wine tastings in our private cellar where we age our most valuable wines, some dating back to 1972! Keep an eye on our social media platforms for information on a Summer Sunset Concert or two in our private garden, against the backdrop of the historical Allesverloren manor house. There is a lot of new energy at Allesverloren. We cannot wait for the lock down to be lifted and to once again share our wines and beautiful farm with you.
Allesverloren's red wines are my pride and joy; I have a particular soft spot for the Allesverloren Cabernet Sauvignon. A glass paired with a medium to rare rump steak, meticulously prepared at our family restaurant on the farm, Pleasant Pheasant, instantly lightens my mood and puts a smile on my lips.
I am very fortunate to have a dedicated team on the farm that shares my passion and sentiment to produce top quality wines from the Swartland region. It all starts with the nursing of our vines in the vineyard, followed by the vinification process, barrel maturation, bottling and finally ensuring that the wine that ends up on your table is the best quality that we can offer – the perfect partner that will make every day a special occasion to share with your friends and family.
I look forward to welcome you back to the farm. You are most welcome to visit the wine shop at our estate in Riebeek West to experience the essence of the Swartland. Who knows, I might just pop-in to share a glass and a story or two.
At present the wine shop on the farm is open for wine sales only, in accordance to the national lock down regulations. If you cannot visit us in person, don't fear, you can visit our brand-new online wine shop to order your favourite Allesverloren wine.
The Allesverloren team and I will be ready to assist you. For more information, or to place your wine order, visit our website www.allesverloren.co.za or send an email to info@allesverloren.co.za.