"The first wine I ever made was a wine that we made in our 'koshuis' at Simonsberg," Jasper Wickens laughs and pours a glass of Swerwer Red blend in his cellar in the heart of the Paardeberg. "We decided to get some grapes from my friend Bryan MacRobert's family farm in Malmesbury. Surprisingly, it just happened to be Mouvedre and Syrah- from the Swartland! We took an old barrel from our 'Koshuis Club' bar, threw out all the cigarette buds, cleaned it as best as possible, and filled it with the grapes. We got our ferment going in the SBA quad's 'senaat' and showed off with every punch-down session. We later borrowed one of the small presses from the University and bribed one of the University cellar workers for a tiny 100 L barrel that we swopped for a bottle of brandy. We pressed the wine, bucketed it into the barrel, and rolled it up the stairs to the third floor! There it stood under my desk for the whole year. To the horror of my roommate, many a good night started in our room around that barrel. We eventually bottled it in some branded used bottles, and I think I still have one or two of them left!"
Today, many years and many litres of wine later, Jasper is regarded as one of South Africa's most celebrated young winemakers whose wines speak true terroir in each glass. He captures the fruit of the vineyards and the place in each bottle. "This is my number one goal; to achieve that, I think as a winemaker, one must always have more of a minimalistic approach and let the grapes meet the glass. I never do the same thing repeatedly; otherwise, you never get to learn about the grapes and the vineyards and how they behave in the cellar. I'd instead explore new ideas than rely on recipes. I do (or don't do) what I feel is best for the specific wine. I'd like to believe I work more instinctively and with feeling."
Jasper has always been intrigued by wine and fascinated with the subject from a young age. "I grew up in the northern suburbs, where the vibacretes meet the vineyards and BMX-ing and skateboarding in the neighbourhood's streets, a real 'stadsjapie'. Luckily, we lived close to a wine farm, and when I got old enough, I started working in the tasting room when my friends were waiting on tables at Ginos or La Romantica. I started a friendship with the young assistant winemaker of this winery, Jacques Viljoen, and he introduced me to the various wines, the cellar and how everything fits together. I thought he had the coolest job in the world- the lifestyle just appealed to me".
Jasper's initial intrigue spurred his winemaking studies at Stellenbosch University. "The subject of wine opened up the rabbit hole, and the more I got into it, the more I liked it. But it was only much later- upon arriving in the Swartland- that I realised entirely how important that life decision was and how much I wanted to live alongside wine. By then, it wasn't the lifestyle and the career that was so attractive; it was about working with a product of nature and capturing vintages in a bottle."
THE STORY STRAIGHT FROM THE SWERWER'S MOUTH
"While studying and after graduating, I worked for that same cellar in Stellenbosch for four years. At that stage, Adi Badenhorst was consulting for many wineries, and during harvest time, we met Adi once every week or so. For me, he was this mysterious character, kind of crazy, rouge, and a real cowboy-winemaker who did everything wild- and everyone had lots of respect for him. I remember him being incredibly cool. He could spit wine from two meters out into a bucket and smoke cigarette upon cigarette but still could taste better than anyone of us. I thought he was the most bad-ass winemaker of them all, completely breaking the stereotypical mould of the career winemaker.
After that 2008 harvest, I took the first opportunity for my first harvest abroad- this was also my first time overseas!- and went to the hailed Napa Valley in the USA. I had high expectations for the experience, but eventually, I got bored doing the same things every day in the cellar. I had to follow every protocol and do things strictly by the book- so not very inspirational and just unimaginative work, but at least the money-side was good! I wanted to do something different when I returned to South Africa. I was tired of the Stellenbosch scene and wanted to see something else, so I sent my CV to Adi- who had just bought a farm in the Swartland- and luckily, I got the job. I arrived in the Paardeberg in January 2009 under very tricky circumstances.
We didn't yet have our own space to work in and made wine in four different cellars with virtually no equipment. It was also quite a logistical challenge, but that year I learned that you don't need much to make good wine, just good grapes as a good starting point. I also learned about the community of the Swartland and how people helped each other out. It was a fantastic experience to see the other side of winemaking – not just the shiny stainless steel catwalks and branded bakkies. It was rough out in the Swartland: hot and dusty in gnarly old bush vine vineyards; old cellars with old equipment and no technology. It was like stepping back into cowboy country; we had to think for ourselves and make daily plans to make things work and get things done. That was what captured my imagination.
After that first 2009 vintage, nothing was set in stone, and I still had ideas to find a more permanent job that paid better. But Adi was adamant about keeping me, encouraged me to start making my own wine, and even offered me some of his best grapes. There was an agreement between Adi and his good friend and neighbour Eben Sadie to use me for harvests on both sides, here in South Africa and up north in Eben's Spanish cellar in Priorat, Spain. The 'Swerwer-thing' started here: I worked for Eben with my good friend Bryan for the Spanish summer and Adi in our summer – so I spent about six months on either side of the equator and chased the harvest season around the globe for three years. With Eben, I learned about fine wines and where and how we fit into the world. We worked our asses off in Priorat but didn't realise it. We made and drank exceptional wines, worked with incredible vineyards steeped in ancient history and thoroughly enjoyed the culture. We just kept the fiesta going upon return to the Swartland!
I was appointed Adi's official winemaker in 2010. He left me alone in the middle of that harvest for about two weeks whilst promoting the new Secateurs range in the USA. So it was sinking or swim time- I got to work things out by myself and got to know the community of the Paardeberg very well that year. It started feeling like home, and I realised how incredible this place was and how special its people were. You then realise you cannot go back and work for a conventional winery or pursue that lifestyle you thought being a winemaker was all about. Out here, things were real.
THE SWERWER SETTLES IN THE SWARTLAND
The Paardeberg became a home for me in 2010. I didn't want to be anywhere else. It was kind of a world within the bigger world, with its unique characters. We thought we were very different from the rest of the wine scene, and it was nice to be part of a rebel society. It was also a time when there were a lot of young guys coming into the Paardeberg. We were working hard but simultaneously partying harder- enjoying every part. We didn't need to go anywhere; everything we needed was right here.
I even found my wife here! Franziska and I met during harvest socials with the winemakers and interns and became closer when the harvest festivities subsided. I didn't realise that she took over the farming from her dad that year and learned about her family's roots in the Paardeberg. One thing led to another, and before I knew it, she started offering me grapes for my new Swerwer wines! She also showed a lot of interest in the wine side and realised the potential of their grapes for the first time. As productions grew and our relationship got more serious, we got married under the old oak trees on the farm in 2016, with Swerwer wines staying on for another two years at Adi's until I finally moved into the newly renovated 100-year-old cellar in 2019. I would not have been here if it weren't for the love and encouragement of Franziska to follow my dreams.
If you think from a winemaking point of view, the Paardeberg offers many different things. On our northern side, you have all these valleys and slopes of old vineyards with varieties you learned about at University but only paged over and never got to see. Everything is here; each vineyard reflects its place so well. That is why you have many winemakers from many regions that source grapes here. It is an incredible tapestry, like a playground for winemakers. It is literally like a kid in a candy store. That is what the Paardeberg is to a winemaker.
WATERVAL FARM – HOME OF SWERWER WINES
I would describe Waterval farm as an incredibly lush farm. It is like a little oasis deep in the valley of the Paardeberg in the Swartland, a relatively hot, dry, and rough place. When you travel up the Siebritskloof valley, you'll reach us right in the corner, at the end. The farmhouse is over 200 years old, with giant oak trees. It feels cooler here, surrounded by mountains with colossal granite domes. The sun comes into the valley later and sets earlier, so we live a little bit in the shadows, which helps in the summertime to be colder. With the mountain so close, we have a little higher rainfall and loads of water, which is likely the most critical factor when speaking of this place. In the middle of winter, you can always hear the little waterfall behind the cellar and the bubbling of the water that comes down the kloof.
My favourite place on the farm must be the old 'Tiernes' vineyard. Those vines enjoy the shadiest and coolest spot on the farm and are the last to receive the rays of sunlight in the morning. I love that vineyard because it is where nature meets man, and if you go there at sunrise, you can always find a deer, a rabbit, or see the dassies coming out to find some sun. We often find leopard tracks there and sometimes catch a glimpse of a rooikat retreating into the fynbos after a night's hunt.
Jasper recently shared his home in the Paardeberg and his wines with Postcards from a Vine. Turn captions on for English subtitles and remember to watch in 4K!
THE SWERWER RANGE
I started the Swerwer range in 2012. There was a red blend and a Chenin Blanc, both around 600 bottles. Today I make five different Swerwer wines, adding up to about 20 000 bottles. I added about 1500 bottles of two focused single-vineyard wines from unique vineyards on the farm. Then I also have a small creative natural range, with a skin-contact Chenin Blanc and Semillon Gris and a new Petnat, currently adding up to about 8000 bottles. I also have a few private projects and labels, and I produce a couple of more prominent export labels of about 35 000 – 40 000 bottles – the cash-flow wines. So you can say that all that goes through my hands and has my address on it is around 60 000 odd bottles.
The first wine I made in my range is my red blend, born from my newfound love for the Swartland and its different varieties. It was grape varieties that excited me at the time. I love the aromatics of Cinsault and its simplicity, and it works so well with Grenache and its beautiful presence with structure. That formed the basis and would later develop in 2016 when I bought in Tinta Barocca to add more earth and density. It reflected perfectly what the traditional Swartland varieties are like together in a blend, and I try to show each vintage's unique reflection through it.
Taste the Swerwer Red Blend with Jasper in this video on his YouTube Channel.
The red blend needed a white counterpart, and everyone around these parts should be able to make a decent Chenin Blanc, so it was an obvious choice. There are just exceptional Chenin Blanc vineyards around, each of the vineyards showing the many different characters in which the Chenin grape can express itself. My Swerwer Chenin blanc is about a unique microclimate and a terroir-driven example of our 'kloof'.
Shiraz was also a natural choice because there are many good Shiraz vineyards around, and it is a variety that reflects its terroir very well. My Shiraz is distinctively granite driven – in a more elegant style – very different to the bigger Shiraz's that come from outside the Paardeberg on the Swartland's warmer sites and schist soils. I think my Shiraz is a bit more floral and a fresh-fruit forward.
Then I also bottle one of the few Touriga Nacional'sin South Africa. The vineyard planted here around 2007 is just one of the varieties that suit our micro-climate so well. It is also a pleasure to work with in the cellar because it's all fresh and tight with a natural density and a helpful good acidity. Touriga Nacional has fantastic colour, a unique flavour and aroma spectrum – very Portuguese in style and different from anything else I make.
The one thing that sets me apart entirely is the 'Rooi-Groendruif' that I make, also known as Semillon Gris. I work with two young vineyards where the material from a mutated vineyard was selected and planted about ten years ago. No one else has this kind of vineyard in South Africa. It is so rare that it is even rare in the rest of the world. Just in the Barossa Valley, there is a tiny amount of Semillon Gris, so that makes me pretty much one of the world's biggest producers of Semillon Gris at this stage. It is fun to work with, and I do various things with it: from straight pressings to cold soaks over a few days to full-on extended skin- contact and even carbonic fermentation. So every harvest is an artistic and experimental journey for me. I use all the methods I can to get as many different expressions as possible and then blend the components to bottle two different wines.
The Swerwer Rooi-Groen is varietal and terroir-driven, and the other is a fun natural skin-contact wine I mainly export.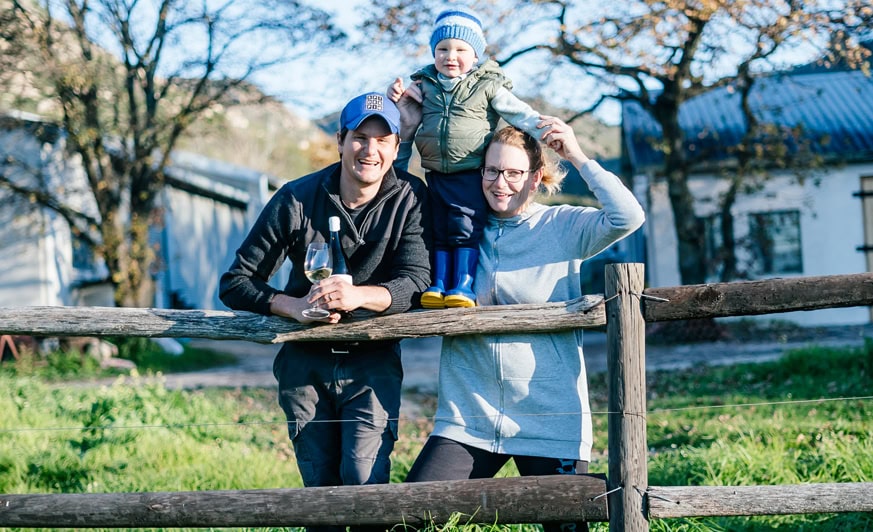 WHERE WILL SWERWER BE 10 YEARS FROM NOW?
Well, I'm still planning to do my thing here on Waterval! I would love to keep working closely with Franziska and showing our boy James around the cellar; he loves playing around on the farm and comes dancing around in the cellar while the vinyls are spinning.
I'm also looking forward to having a lot of solid vintages behind me and a good reputation as a winemaker. Some of the vineyards will be much older, so I'm looking forward to working with much more mature vineyards and seeing the labour we are putting in at the moment.
The hard part is not the cellar work; the backbreaking work is out in the vineyards with Franziska. Our biggest challenge will be to lift our game in the vineyards, even more, to get the farm's viticultural side up there with the best. That isn't easy because farming is just getting more and more expensive. I don't think the markets and the wine prices are keeping up with and sustaining the farming costs at the moment. So that remains to be the biggest challenge.
And then I think I still have some 'swerwer' spirit. It is something that I suppose you cannot ever lose, especially if you are into wine and learning about it. It is something you cannot ignore. Hopefully, I will still see different parts of the world of wine. There are so many places I want to go and visit still. The friends you make on these journeys are life-changing; it is incredible how we are all connected. It is not just me that is a 'swerwer'. I think there is a 'swerwer' in every winemaker.
HOW CAN SOMEONE TASTE 'SWERWER WINES BY JC WICKENS'?
The best way to taste my wines is to visit me on the farm. I love to share what I do, and I will take you through the cellar, and we can taste components out of barrels and chat about the wines on their home turf. You get to know wine better once you've walked its earth, breathed its air and drank its water. There's usually also something beautiful to see.
The best place to buy my wine is directly from me on my website. I deliver wherever you are, but there are a few selected wine shops in the Cape where you can buy some of my wines: the amazing Wine Kollective in Riebeek Kasteel- our regional showroom; Chapmans Peak Wine and Spirit in Hout Bay; Ultra Liquors in Claremont, and on the west coast, the Paternoster Wine and Tasting Lounge. In Johannesburg, you can pull into Wine Menu and Dry Dock – which also does the occasional tastings. There are always online websites such as Wine Cellar or Cyber Cellar you can buy through if you like the virtual shopping cart.